With Aqua One's Parent Dashboard, checking in on your kid is as easy as scrolling your social media feeds. Just head to app.cyberdive.co on your mobile device to access your Parent Dashboard! Here's why: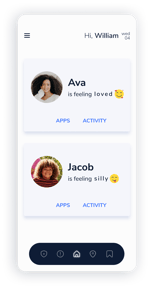 Every single action they take on the phone is displayed in your dashboard.

Your dashboard will update any time your kid uses their Aqua One, allowing you to check in with them on any iOS or Android device from anywhere.
More of a visual learner? Watch the video below!